Retaining a competitive edge in the ever-evolving business landscape can be tricky. This is especially true if your company is relying on older communication systems when there are more intuitive solutions available. If you'd like to give your company a modern and professional edge, a VoIP (Voice over Internet Protocol) system could be right for you. Read on to learn how VoIP works and how it could benefit your business.
1. Save Money
The biggest benefit of a VoIP system is its cost savings. With traditional public switched telephone networks, the cost of everyday calls and overseas calls can be quite high. However, as VoIP uses an internet connection instead of traditional phone line configurations, the cost to make calls is dramatically decreased; you only need to worry about the monthly internet bill. Another fantastic money-saving feature of a VoIP system is its portability. With traditional phone systems, if you relocate your business, you need to divert your numbers and reprint business cards. These seemingly small costs can add up. You can, however, keep using your current numbers by transferring them into a VoIP solution. Research specialty providers like Com2 to see how you can cut costs with customised solutions.
2. Intuitive Features
Possibly the most exciting part about VoIP systems is the range of features you can choose to implement. A major feature that has a positive impact on phone agents' workloads is automatic routing. Automatic routing can redirect a caller to a phone agent with the correct skillset and experience. If the caller has spoken to a particular agent before, they can be automatically directed to this agent so they don't need to reiterate any information. Automatic routing also means you don't need to pay workers to manually direct calls within the business.
VoIP protocols are also able to integrate with other applications, like email accounts. For example, if a client or co-worker leaves a voice message, you can set up your system to transcribe it into an email attachment. This means you don't need to quickly write down any names or call-back numbers, and you can transfer this information to other employees as well. You can also integrate your VoIP system with other devices so you'll rarely miss important phone calls. Find-Me-Follow-Me (FMFM) is a popular feature that rings through your work phone, mobile and any other device if you're not in the office.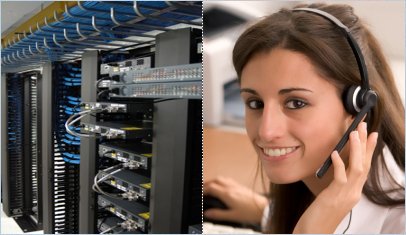 [image from voip-europe]
3. Recording and Monitoring
Recording phone calls between your phone agents and clients is an invaluable tool in enhancing employee training, and effectively resolving any disputes. The ability to monitor calls is another fantastic tool if you need to help out a new or struggling phone agent, or if you need to see if there is any call load imbalance between your employees. This ensures your clients are receiving great service and your agents are highly efficient in their role.
How do you think your business could benefit from a VoIP system? Share your thoughts and any experiences you've had with this technology in the comments section below.