Updated : 13/03/2019
I am a clickbank member for quite some time now, actually for the past 3+  years now and did nothing much with my CB account for quite some time. It just lay there idle.  I did not make much money with click bank at all in that time.
There was that intermittent or occasional sale now and then from  those old promo codes put on my websites, but no big money or  $$ or  anything and no spectacular income from those sales.
Then one day just randomly,  I decided to link to a click-bank  promo code for  an e-book directly related to one of the niches on one of my established blogs. To my surprise, I suddenly saw my sales jump ( like 2 to 3 ebooks being sold every month ) on a regular basis.
Mind you the commission wasn't great at about $3 to $4 per sale, however it was coming in on a regular basis. My earnings was still peanuts compared to some super affiliates like Rosalind Gardner(her course).
All it took me was 2 minutes to add that link to that article. Click-bank calls it a Hoplink. I was not a beginner in internet marketing, but surely a beginner in affiliate or clickbank marketing and so was happy to see these conversions happen so easy.
I was surprised and excited that just by  promoting  the correct "clickbank product" in the correct niche website,  I  started to earn money regularly without much effort at all. Off course, I do have to tell you that  the blog where the link was, was a good blog with genuine content that attracted a lot of unique users  to that niche.
At 700 to 900 unique visits a day  on that blog, I was doing pretty well selling  2 to 3 books a month  without much effort and I didn't even use facebook or social media to promote  this click bank product. I actually didn't even do any SEO or promotion or back linking. What was converting that product into sales was that targeted traffic i was getting
It didn't even take much time  to create that article that made those sales happen. The article that sold most of the books was  probably 20 minutes. Of-course it helped that  the whole blog  was quite popular and had a good relevant content  and so the article was  easier to  find on google search engine.
Website: http://www.clickbank.com

Today you have the opportunity to cut the learning curve, by enrolling in clickbank university that teaches you the whole process of promoting a product online as well as making your own products to sell on their platform, its called Clickbank University 2 .
I did some research immediately  to see  how I could improve my "click bank sales" after noticing my spurt in sales initially, and I have detailed  a few tips  that might help you also improve your Click bank sales  if you re into  this kinds of affiliate internet marketing. These tips can give a boost to your earnings  and make you some money, if well implemented.
Its not a step by step guide to clikbank, but has enough information for you to get started on the right foot and  to get some sales going.
Browse CBGraph website ( the movers and shakers of click-bank) 

This is one of the most important sections of the site since it's the only way to sort out the listings before/after making a keyword search. A useful site like Cbgraph shows the Movers and Shakers on CB and is an excellent resource.
Clickbank can be a very lucrative affiliate program because the commissions ( Some are as high as 75%.) are incredibly high. The products are mostly  digital products – eBooks, digital products, software etc. There are no distribution costs as goods are mostly delivered by email except for few, so that's one reason Click-bank can afford to offer such a large share or commission  to their affiliates and publishers.
Here is a 2014  screenshot of my earnings from clickbank only.
Its increased much more since then to now in 2016 and i am still banking in 2019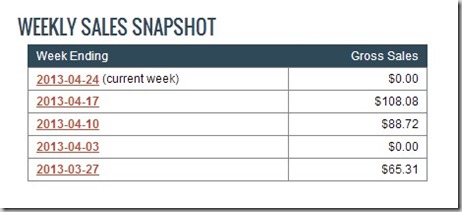 I  promote click-bank  on several of my websites  including gadgetaustralia.com  this blog and  digitalfrog.com.au and many others with several products on sale to make this kind of earnings.  I would suggest also getting a second CB account  to track your sales better and compare data.
Below you can watch a  video by nathanniel who has just started on the clickbank scene. Judging from his screen shots of earnings he is not earning as much as me  for now, but still good for  a starter  and  his methods  to select  a affiliate product is pretty good which are also shown in the  video.
By the way  to get that kind of sales  and $$ you will also need to spend some money on SEO, back linking  and advertising or then do it yourself  like me if you got time to spare.
But if you really want  a jump start with your affiliate marketing  and you are just beginning, then  this course from Affilorama – Internet and affiliate marketing course is pretty good
Tips and tricks to Increase click bank products sales
The complexities of the huge size of ClickBank  means there's a lot of junk/worthless material on the website as well as good material to promote. The time taken to sift through the good products to promote,  and choose the correct products will eventually make you selling  efforts a winner.
The pic below with arrows shows the most relevant  stuff that you need to know  when you are choosing your affiliate product to promote . I just chose a random affiliate  today , that I  am testing right now and you can see I just got two hops on this offer already.
The red arrows point to relevant bits , with explanations below.
How to choose a Click bank affiliate product!
This particular product pays $25.45 per sale on average. Now, it's important to note that the amount you earn per sale may not match that number exactly due to upsells, sales tax, chargebacks, etc. However, this will give you an idea of what you can earn.
Check out the Stats information at the bottom of the result. This provides more details about what you can earn.
Notice the Initial $/sale stat is much lower than the average $/sale. This particular vendor offers several products, which is why the initial sale stat and average sale prices differ.
Average %/sale means the average commission for this product is 60% per sale.
The Avg Rebill Total of $, indicates this is a recurring billing product and that's the average amount the affiliate earns. So not only can you earn for one sale, but you will also earn for any customer re-bills. This is how your income can really add up over time. There is no re-bill on this product
Popularity ( this is in the product search field when you are searching for a product to promote)
This should mean a measure of sales. I check the top 10 products in the category, sort them by referred sales (60%+ is best/$30+ earned per sale)
Gravity
What does ClickBank Gravity mean?
The meaning does not tell you how much money the product has made or what percentage it converts at. Gravity only counts the first sale each affiliate makes. However, if it has a high gravity it's probably because people are having good success with it.
How to find high converting, high paying items with low return rates
A high commission product , recurring payments, and a high gravity is what you want to look for. Be sure to watch out for that gravity! I found more that one product with HUGE commissions and rebills, but a super low gravity.
Saying that , things are changing  and you can now find low gravity products  with low competition that you can make lots of money on , if you got a relevant niche website  on that  topic .
The key  for 2019  success is  just make sure  if you are using a landing page  that is is super built to convert  that product, or then  make a pre -landing page  if the affiliate landing page is not good enough for the product .
Making money with Clickbank and Facebook  Linked in and twitter
If you can make a good landing page then you can also convert sales for clickbank safely from traffic from facebook, twitter, linked in and other social media  accounts
If you can be bothered  about landing pages  just make a really good helpful article  with your  click bank  link sprinkled in the article with a call to action included in it.
Another good tip that has doubled my income in one of my blogs is free ebook giveaways. People love free stuff and if you are willing to put the time to create something of value to them for free, it is likely they will be grateful and give you a sale knowingly or unknowingly when they click on your affiliate link in that free ebook giveaway.
Steven Hall has  got a good clickbank product to make this free giveaway method seamless for you, with your website.
I would also recommend Rosalind Gardner  who is a super affiliate and has helped many into  their online affiliate marketing careers, she has two guides that she sells , one is called the "Affiliate Blogger Pro" and she has also got an indepth  affiliate guide called – "Super Affiliate: How I Made $436,797 In One Year which covers how to start Your Own Home-based Affiliate Marketing Business.
These guides will surely teach  you how to go about and start earning  with affiliate marketing or  increase your existing blog income
Obtaining Your Affiliate Link (Hoplink)
Once you decide on a product you want to promote. CHeck to make sure you are logged into clickbank then, click the green Promote button alongside the product  listing.
You will be presented with  two small  columns  ,  1st column  your id is  already input ( if you are logged into the clickbank website) and second column ( tracking id ) just input some text you can remember ( like the page name where you will  put this created code on ). This will help you know  that that page is generating sales, you can create multiple tracking ids  to track  sales from different pages to know where the sales is being generated from .
Now that you are ready to put his click-bank affiliate code in relevant pages on your website  and promote the product  and start earning commissions !!
If you haven't yet got a website for yourself – then go here on wordpress.com for a free or paid website  or then  choose from one of our recommended  hosting providers to start your self hosted WP  website which is the best option for affiliate marketing.
Launch of CLICKBANK UNIVERSITY 2 – Step by step course for earning money online – by clickbank
Clickbank University is one of the more popular training programs now, about creating your own information products to sell on the Internet. It is a community with thousands of people trying to learn more about affiliate marketing and selling products online.
The main training program focuses on product creation with Training videos and also chat available with successful click bank entrepreneurs who earns thousands a day . Training also provided for maximising your  revenue by selling other  click bank vendors  existing products as an affiliate.
This powerful on-line marketing course series will provide you with everything you need to know to be a success and achieve your goal whether you decide to market someone else's product or create your own. Learn more about it here
Advertising for your blog
One important method that many people shy away from is  spending money for advertising  your blog posts,  advertising gets you targeted traffic  and if you do it right  you can earn a lot more money  that you normally would, so start experimenting. Here are some good free starter coupon money to get you started with  bing advertising.  They are much easier and  flexible to advertise with than google ad words at the moment
What Are Bing Ads?

Bing Ads is the advertising platform you use to show ads on the Bing and Yahoo search engines – also referred to as Yahoo Bing Network. You also have the ability for your ads to show on their syndicated partners such as Facebook, Amazon, Monster, WebMD, CNBC, and Viacom. They are the direct competitor to Google adwords and PPC
These COUPONS are only good for new customers.
New Business and website customers in the following markets receive free search adverting credits to help them get started:
One last tip to increase your clickbank sales and income, try to increase  your organic traffic  to  the page where your  click-bank link is,  by trying to rank it in google for related buying keywords for your product. Once you get steady organic traffic  with good keywords, the sales will follow. Good Luck!
Technorati Tags: Australian affiliates,Click bank,Clickbank promotion,clicbank,Making money
Related articles across the web